AdRoll and Diversity in Tech: A Q&A with Truc Nguyen and Jessica Grist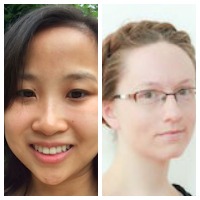 Written by , June 20, 2016
Introduction
CODE: Debugging the Gender Gap is a documentary that exposes the dearth of American female and minority software engineers and explores the reasons for these gaps. CODE raises the question: "What would society gain from having more women and minorities code?"
At AdRoll, we see the value and gains from having more women and minorities coding, which is why we screened this documentary at our headquarters as part of our wider Diversity and Inclusion initiatives. We followed the screening with a panel of female engineering managers—as well as some of our very own Rollers—to discuss not only how the gender gap came to be, but what we can do as individuals and as a collective to debug it.
To reproduce some of what we discussed, we conducted a Q&A with Truc Nguyen and Jessica Grist, two of our Rollers who were panel speakers. Truc is a UX Designer on the SendRoll team; Jessica is a Software Engineer on the Retargeting team.
Following the Q&A, you can read a bit more about some of our key learnings and takeaways for AdRoll.
Q&A With Our AdRoll Mini-Panel
Can you tell us more about your experience as a female in tech?
Truc: I discovered CS in a roundabout way through the social sciences first. Like others who discovered CS later in life, I think I had a narrow understanding of what it was. After taking the intro class, I loved how it introduced me to new ways of deconstructing and solving problems. I hear a lot of horror stories, but in my experience, I never felt like I was explicitly discriminated against as a female. Like Jessica, one way it's affected me is that I delayed or dismissed considering it as a field of study until later in undergrad. I never thought it was for me because I bought into the perception of CS as a hardcore field you can only do if you've been coding since you were twelve and taking apart computers. Luckily, I had a female section leader and a handful of role models (both male and female) who encouraged me to keep pursuing it. As I progressed further, I did notice the gender ratio swaying in one direction.
Jessica: Refreshingly, it's been pretty positive! I started off in a supportive and woman-centered environment at Hackbright Academy, where I was surrounded by incredible female role models, both the established engineers who taught the classes and the other women in my cohort. While my first job searches post-Hackbright were stressful, it seemed to be about par for the course from what I heard about other bootcamp grads' experiences. At AdRoll, I've never felt marginalized or discriminated against because of my gender. I've also attended dozens of meetups in San Francisco and never felt unwelcome. However, the problem of underrepresentation of minorities in tech has had a huge impact on my professional life. If I had seen more female role models in tech growing up and in my college years, I probably would have become an engineer much sooner, rather than starting my professional life as a teacher.
What can I do as an individual to support underrepresented people in tech?
Truc: The best thing you can do is treat them as you would any other friend or colleague who is worthy of your respect. Offer your encouragement, support, and praise because you admire them for their good work and their traits, not because they "need it more." If I never bring up my underrepresented status, don't mention it unless it's relevant to the conversation. Constantly reminding people they're marginalized in tech could make them more self-conscious. If the issue comes up, be receptive and listen with an open mind and heart. And if you're not marginalized, you can lend your voice to the conversation and raise awareness the next time the issue comes up.
Jessica: Treat them no differently than your other colleagues because in a professional setting, they aren't different. They're engineers (or designers, etc.) and so are you, and so is everyone else on your team. If you see anyone treating them differently just because they're underrepresented, speak up about it. If they want to speak about their experiences as underrepresented people, listen. If they don't, then don't push them for it. Don't expect them to be advocates for every other marginalized person in tech, but don't be surprised if they want to be that either.
What can my company do to support underrepresented people in tech?
Truc: It's two-fold.
On the recruiting side, when you get a high volume of applications to comb over, you start to apply filters such as prestigious past experience, schooling, and referrals just to cut down on what you can review. I challenge companies to take the chance and effort to source candidates from different backgrounds and communities including non-traditional candidates. As the CS field can be perceived as male, nerdy, and insular from the outside, the way a company presents itself externally can affect the types of candidates it attracts. Qualified people may self-select or rule themselves out based on the company image or job descriptions that project unconscious bias. As an engineer, it's really interesting that AdRoll recruiting is so willing to try out a data-driven approach to hiring and to use tools like textio.com, which uses natural language processing to make sure your recruiting communications aren't a turnoff for candidates.
Once you've started to build a diverse workforce, it's about creating an inclusive culture where people feel comfortable voicing their honest opinions without judgment. There's no real playbook for that process; it has to happen somewhat naturally. As a leader, set a good example by showing that D&I is an important issue on your radar. Encourage town halls or breakout sessions where people can learn more and talk openly. This is something we have found to be effective at AdRoll and has been a catalyst for getting initiatives off the ground and into practice.
Jessica: It all starts with recruiting. Seek out recruiting events sponsored by organizations for minority engineers (or designers, or whatever your job req is for). Be open to non-traditional backgrounds. If you strictly limit your engineering workforce to people with four-year CS degrees from prestigious universities, your company is not fully supporting the inclusion of underrepresented minorities in tech. There's no need to lower your skill standards; just don't assume that people who haven't gone to the "right" universities can't be good engineers. Beyond hiring, get your leadership involved in D&I initiatives—and not just leaders from gender and ethnic minorities. Don't assume that your female leaders, or your leaders from ethnic minorities, will want to be involved in D&I, though encourage them if they do.
How do you address people who think that diversity in tech isn't an issue?
Truc: I've heard some dissenting opinions: focusing on "women in tech" marginalizes women in tech; women aren't interested in STEM fields, so we shouldn't push them; and that the gender gap no longer exists. I challenge them to try to view the issue through a different lens. Though we've made great strides towards equity in the workplace over the past twenty, fifty, etc. years, there's still a long way to go. As a member of an underrepresented group, it can sometimes feel like you're a foreigner in another country going into a field, company, or organization where you don't see much diversity. This lack of diversity in tech goes deeper than race, gender, or visible traits and is still a statistical truth. I try to appeal with data, figures, and research that show creating a more inclusive workplace benefits everyone.
Jessica: This is a really tough one because when you bring up diversity in tech, and then are told that it's not an issue, that puts you in the position of having to defend and prove your stance. Having to explain your own marginalization and exclusion is especially frustrating for members of marginalized groups. To be honest, I'm not sure of the best way to change these minds.
What are the best ways to raise awareness and combat apathy?
Truc: Heh, having attended many D&I events it can feel like we're preaching to the choir. I honestly believe most people have good intentions and recognize that D&I is an issue but aren't sure what actions they can take. If you're not a manager or you don't identify as underrepresented, it's not clear how it relates to you as an individual. Being an ally to an underrepresented minority doesn't necessarily have to take a lot of work. You don't have to vocally advocate on behalf of a D&I movement (that's asking a lot of anyone), but it does take conscious awareness. It means small things, like checking your bias, being more empathetic by trying to imagine what another's experience is like, or just listening.
Jessica: The only answer I have to this is persistence. Apathy is an enormous part of the problem, perhaps even bigger than active opposition to D&I. The majority of people in tech will acknowledge that diversity in tech is a problem, but not that it's their problem. But if it isn't their problem, then whose is it? Underrepresented minorities already struggle enough to break into tech; it's not automatically their responsibility to increase awareness of diversity too. So have your leaders talk about D&I. Have fun D&I events that will appeal to everyone. Make it a consistent and persistent part of your company's culture.
What is AdRoll doing to address the gender gap?
We don't have all the answers at AdRoll, but people are making the right efforts and having open conversations. Some of the key takeaways we've gotten from our CODE screening are to:
Be aware of unconscious bias as individuals and as a company. We've rolled out unconscious bias training globally to generate more awareness about our own biases.
Build a network of allies (colleagues, managers, etc.) to help advocate or raise issues for underrepresented groups in your company.
Be action-oriented: speaking up when you see something you disagree with, working with teams, managers, and recruiting to make a difference through events, training, and facilitated discussions.
Be engaged, not only internally, but also externally. Partner with other companies and organizations and learn from each other, as well as open up Diversity and Inclusion work to an external audience.
We thoroughly enjoyed opening up this conversation to a broader audience at AdRoll and look forward to future events that continue the discussion and drive momentum forward. If you want to contribute to this discussion, then be sure to come Roll With Us as we hire and build strong teams. You can learn more at our career site.